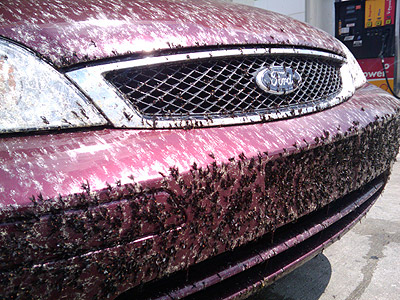 Spring has sprung, and with that comes a pollen-rich atmosphere, standing water, and thick, humid air.  We know what that means…bug season is full swing across south central Kentucky!  Literally BILLIONS of insects and other bug-related creatures are out in full force.
Bugs can surprisingly do major damage to your vehicle, especially if left untreated for an extended period of time.  From mosquitoes to bumble bees, all airborne bugs contain nasty toxins and chemicals that can cause damage to your clear coat, as well as your paint.  Not only are the bug villains lurking, but allergies are at a season-high as well.  Luckily, here at Cheetah Clean, we've developed a 5-step process to remove bugs from your vehicle.
Our pressure wash booms located at the entrance of our wash allows for complete, 360 degree rotation, which frees up our technicians to effectively apply our bug removal protocol to every single side of your vehicle.  Our wash is equipped with the only top washer in Bowling Green, making sure we get the bugs off every part of your vehicle.
Our 5 step process breaks down as follows…
KingoRoot is created as an apk record arrange, intending to assist Android clients with rooting their gadget without interfacing with PC. It is the most effortless and quickest a single tick apk root instrument, kingoroot downloadwhich can get you an established gadget with a couple of straightforward strides in no time flat.
1. Butyl pre-treatment
This pretreatment is a specialized, liquid blend which cools the surface of the vehicle. Cooling the surface allows for safer removal of those pesky, hard to get bugs. This obviously provides better protection for your ride as well.
2. Sodium Hydroxide
Another liquid application, which focuses on emulsifying the bugs itself, loosening the stains leftover after a long drive on the interstate.
3. Fiber Synthetic Pass with Brush
Our brushes are produced with fiber synthetic material to allow for non-scratch, firm handling of insects and mites. This pass is completed around all sides of your vehicle, including windows and rocker panels.
4. Swiss Tex Pass
We follow up with another pass of the automobile with our swiss tex brush. This material is much more refined, made from softer material. This takes care of all the nooks & cranny's around your vehicle, making sure we reach those hard to reach places.
5. Heated Nozzle High Pressure Hose
Last, but certainly not least, we round the vehicle at hand with a specialized, heated nozzle hose to erase all bugs and grime. The design of this particular setup reassures that all bugs are safely and efficiently removed.
We also have a BRAND NEW weapon that we've created to add to our bug-zapping arsenal…the BEAST BRUSH!  If the combination of these tools won't do the trick, nothing will!
With the warm, humid air taking over south central Kentucky, the presence of bugs will only increase.  Stop by today and sign up for one of our unlimited plan packages, and become a part of the #CheetahCleanTeam today!