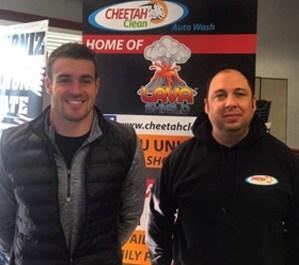 It's with great excitement that we announce the addition of TWO new members to the #CheetahCleanTeam. These individuals bring a wealth of knowledge and experience with them, which we're looking forward to utilizing at BOTH Cheetah Clean Auto Wash Locations! Please help us welcome Darren and Brennan with open arms as they get acquainted with not only the ins & outs of our wash operations, but our customers as well!
Darren, in his own right, is a seasoned veteran in the car wash business. He has 19 years of experience with one of the most prestigious car wash operations in the world, located in Indianapolis, Indiana. Over the course of his 19 years, there's evidence to support the fact that he's been a part of washing ~5,000,000 (yes, 5 million) vehicles! That's insane!
Not only is Darren a car wash maniac, he also brings other valuable traits to the table. He's completed a number of personal growth and development classes, including but not limited to Lantz Quest, as well as Dave Ramsey's Financial Peace University.
Darren is also 49 CFR Certified, which provides him with the ability to properly handle, clean up and store hazardous shipping materials and hazards. In the car wash business, we deal with a number of chemicals, which is just another aspect we're excited about with Darren's arrival.
Another additional member that is now part of the team is Brennan. He's a recent college grad with a wide array of knowledge in the Agriculture and marketing field. Not only is he well versed in agriculture, he also has a strong handle on the inner workings of the EPA. As many of you know, we are an official Water Savers business, meaning we work tirelessly to properly treat and release used car wash water for safe use. We're looking forward to using Brennan to not only help in this area, but marketing and sales as well.
Not to mention, Brennan is an entrepreneur in his own right. As of 2015, he and his wife launched Gone Nutz, a Bowling Green-based gourmet nut butter company specializing in high-end gluten-free, grain-free, and refined sugar-free products. So not only does Brennan carry knowledge in a wide variety of fields, he also understands the nuts and bolts of business world in general.
Again, please help us welcome our new team members to Cheetah Clean Auto Wash! We're looking forward to finalizing the renovations of our new location in January of 2017, and the addition of these two great people to help us up the ante on our quality and efficiency! Everyone have a safe and happy New Year!