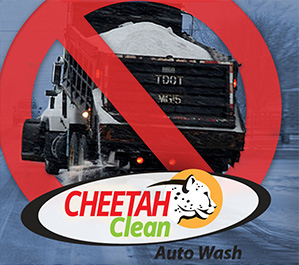 Let it be known that Cheetah Clean Auto Wash will be OPEN this weekend, as we always are, to help you battle the fierce elements of the recent winter weather. Whether it be the freeze/thawing repetition process, or the truckloads of salt, calcium and brine eating away at your vehicle, the #cheetahcleanteam will be here to help you keep your car not only looking great, but performing great as well.
DO NOT let salt and other chemicals used in the deicing process sit and linger on your automobiles. The longer the elements sit, as with bird droppings and sap, the more embedded it becomes within the outer coating of your vehicle.
We have extreme treatment options that focus on specific parts of your vehicle. If your rocker panels are in rough shape, we have a formula specified to take care of them. The same goes for window, wheel and tire treatments…
Treatments for winter weather are hands down the single most damaging elements for all types of vehicles, so be sure to take care of your ride during this time. If you have any questions, feel free to contact us at 270-842-0286, or text 270-779-8534. We have TWO locations. One located at 941 US-31W Bypass, and the other at 1305 Veterans Memorial, both in Bowling Green. Stop by and join the #CheetahCleanTeam today!