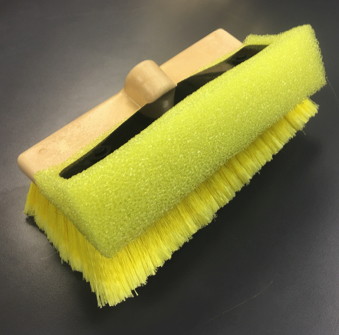 As many of you know, we're constantly working on expanding our horizons here at Cheetah Clean Auto Wash. One thing we started to notice was the amount of time we take switching between washing tools while prepping our customers vehicles for one of our many options. We decided to do something about that, and the results have definitely given us a sense of pride!
You're looking at our very own two-in-one wash application brush and attached foam head. With the help of our maintenance technician Tony, we were able to mount our new material on the back side of the brush, thanks to rivets and correctly sliced materials.
Not only will this create improved timing for our customers, but our quality will ascend as well. The foam attachment is a non-adhesive that allows us to apply a bit more elbow grease during our wash process, whether its our standard procedure, or during the application of our extreme treatments.
The foam does not falter when wet, and it holds a surplus amount of water. These features make it a faultless, paint-safe washing instrument for fine finishes. The foam absorbs, then easily releases dirt into our filtration system, rather than rubbing it into the vehicle. And, because there are no synthetic bristles, the foam won't scratch up surfaces, delicate or not delicate, like clear coats, gel coats, glass, Plexiglas or fiberglass.
Stop by and check out our new device today and see for yourself the difference it can make! Stop by EITHER location today, and join the #CheetahCleanTeam!