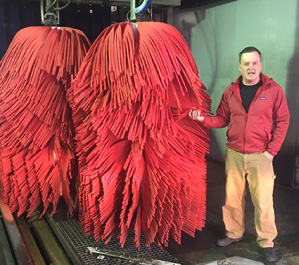 We've been very hard at work at our new location on Veteran's Memorial, gutting and stripping the old nuts & bolts and upgrading it to meet industry-leading standards. New hires have been made to manage the property, and we're extremely excited about what's to come. We're not completely, 100% finished with this property just yet, but we wanted to bring you an update about the big changes we're making during the 2nd phase of our complete car wash renovation…CAR WASH RESCUE!
Among the additive upgrades include new signage at the entrance of the wash. Not only will this brighten the look of the facility, it'll also serve as helping with transparency between the customer and our technicians. Not only will you communicate with our tech's they'll implement your order which will appear on the digital board provided…including what Extreme Treatment Options you selected!
The inside of the wash has already seen upgrades plugged in as well. Some of these took a lot of work, but it had to be done. Check out our new foamers, LED lighting, and wraparound, mixing containers. This trifecta won't only make your wash experience more appealing, it'll also produce a better quality wash!
Another system we're in the process of adding is to help serve your after the wash needs. We're replacing the old vacuums with brand new, modernized technology. The photo you see below is an example of what the current setup looks like:
We'll be stripping the vacuums, adding a full access, high-powered vacuum tube to which the booms will feed into. Not only that, it'll also provide air drill access, to blow the grime and dust off the inside of your ride before you vacuum. Oh yeah, we're not much on the blue, either…we're replacing the old covers seen in the pic above with brand new, yellow covers! Here's a look at part of the new vacuum setup in the flesh…we can't wait to get this installed!
chromecast not working
We'll be installing a brand new system that will allow for boom vacuum access around your car…a FULL 360º thanks to the new equipment! We hope our customers take full advantage of our new tools and services! If you have any questions, please don't hesitate to ask. Become an unlimited member today! Just stop by either location (941 31-W Bypass or off Veteran's Memorial across from Wal-Mart. Join the #CheetahCleanTeam today!