Cheetah Clean Auto Wash proudly partnered with Court Appointed Special Advocates (CASA) of South Central KY, INC. this past weekend for a night of bourbon tasting, dancing, and fundraising. Cheetah Clean's employees attended the event Friday evening hosted at the Venue at 939 Adam St.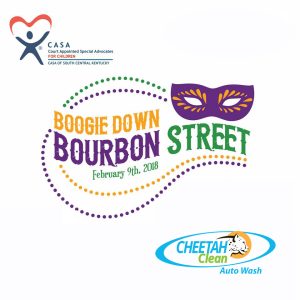 Cheetah Clean values the importance of supporting our community as well as the organization amid the region. Owner Jeff Fields says "It's very important to be involved in the community, especially when it comes to helping our young people".
(CASA) of South Central KY, Inc. is a non-profit agency dedicated to preventing and eliminating further trauma to children. Specifically, CASA works to prevent child victims of abuse, neglect, and dependency from further abuse by providing trained community volunteers to advocate for them in the foster care and family court systems.
Cheetah Clean looks forward to continuing their partnership with CASA with the Sponsorship of the Superhero 5K set to take place in September. When asked to reflect on Cheetah Clean's support for CASA, Executive Director, Jana Sublett said "It's not everyday you have the chance to partner with a local business who's willing to dedicate as much time and effort as Cheetah Clean has. They are a great group that provides outstanding services to our community".
Cheetah Clean Auto Wash is located at 941 US 31W Bypass, 1305 Veterans Memorial, AND their newest location 1430 Nashville Rd in Franklin, KY. They are open seven days a week. Operating hours are 7 AM to 6 PM Monday through Saturday, and 9 AM to 5 PM on Sunday.