#CheetahNATION was excited to be a part of Band Together BG: A benefit held last Saturday, November 18th at La Gala, with all proceeds going to victims of the Hurricanes in Houston and Puerto Rico.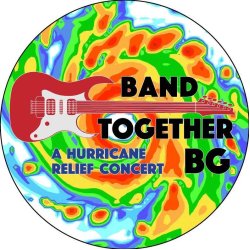 We owe a shoutout to our Corporate Sponsorship partners for helping make this event successful! THANK YOU Luxury Imports of Bowling Green, Sarah Duffer-Shelter Insurance, and Flora Templeton Stuart for the time and resources you provided!

The event was highlighted by events and contests, including, but not limited to, silent auctions and raffle prizes. The "main course" of the night's festivities was of course the incredible local talent, which included Ernie Small Blues Band, The Josephines, The Get Down, Darla Day and Jonell Mosser!
The Josephines headlined the event…don't forget to check out their new EP 'Sober Up' that's now available!
A great time was had by all…and what a great way to give back right before Thanksgiving Week! Again, thanks to all who donated items and attended to help make this night a success. Banding together with this phenomenal community is a privilege, and we're looking forward to continuing to do so with future events!