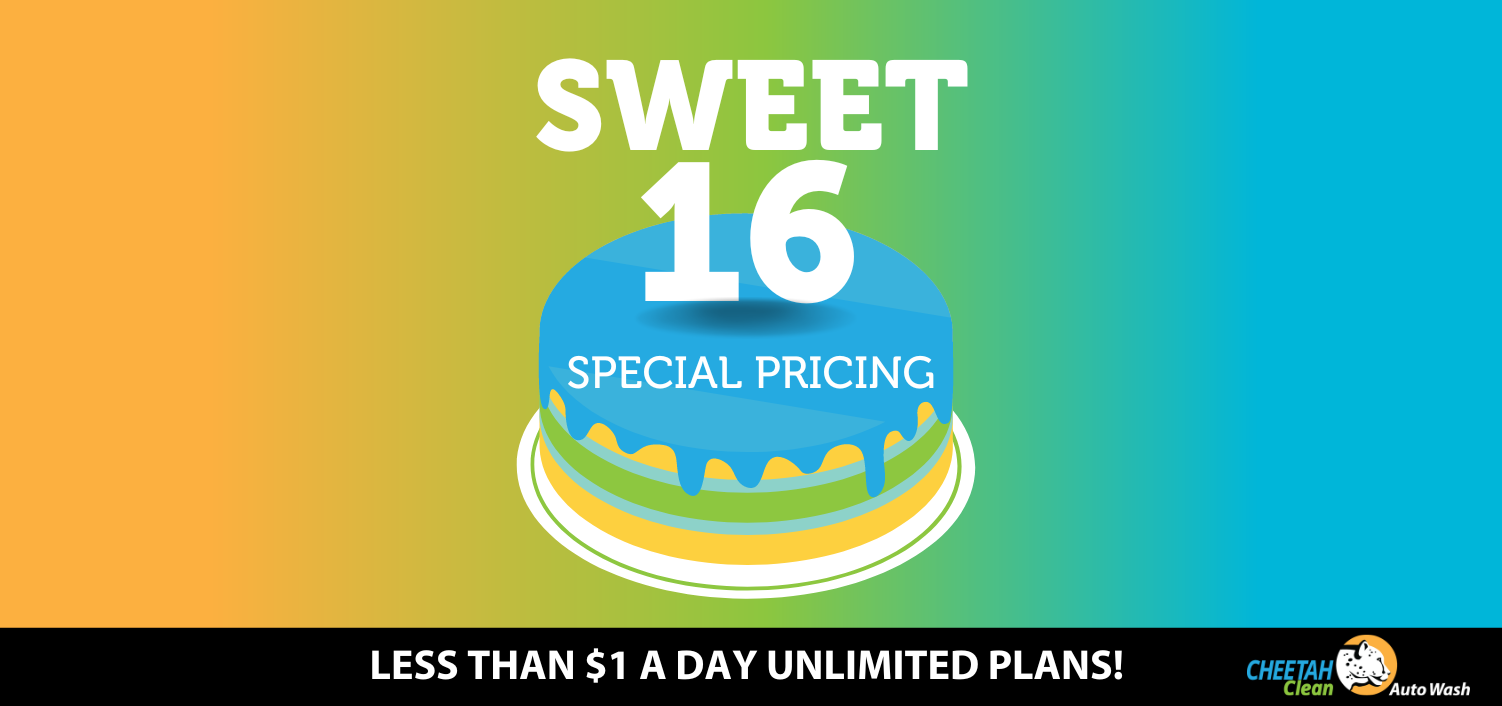 Drive-in, Drive Clean, and Drive Happy – Join the Party!
Our Journey to Celebrate Clean Cars
Here at Cheetah Clean Auto Wash, we're thrilled to share an exciting milestone – our "Sweet 16" celebration! To commemorate this special occasion, we're unveiling brand-new pricing plans that embody our dedication to offering affordability and excellence. With our unwavering commitment to providing outstanding auto washes and unparalleled customer service, we're excited to bring everyone the joy of an unmatched shine.
Premium Auto Wash Packages for All
We've always taken pride in our efficiency and top-tier service, and now we're taking it up a notch. As we step into our "Sweet 16," we're excited to introduce our revamped pricing, designed to make premium auto washes accessible to everyone. Starting at just $16 for an individual wash, we're setting a new standard for affordability in car care. No matter the size or model of your vehicle, our Sweet 16 pricing ensures that you can enjoy a pristine ride without worrying about breaking the bank. Our aim is to transform the dream of a clean and shining car into a reality for individuals from all walks of life.
Less Than a Dollar a Day: Monthly Plans Tailored to You
Car cleaning should be a priority for all, we're introducing monthly pricing plans starting at only $29.99. Keep your vehicle sparkling for less than a dollar a day – an investment that not only keeps your car looking its best but also reinforces your own expectations and professional perception. Feel focused and relaxed knowing your car is clean and cared for.
We understand that each car owner has unique needs, and our monthly plans offer flexibility and convenience to cater to those needs. Our commitment to a premium wash goes hand in hand with our commitment to ensuring your car stays in top condition.
Giving Back: Enriching Our Community
Our dedication to quality service extends beyond our customers – it's about our community as a whole. As part of our ongoing commitment to giving back, we regularly participate in charitable initiatives. With the launch of our new pricing plans, we're reaffirming our promise to make a positive impact on the lives of those we serve.
Join Us in the Sweet 16 Shine
Our "Sweet 16" celebration encapsulates not only our years of experience but also our enduring values of accessibility, inclusivity, and commitment to excellence. With our updated pricing plans, we're inviting you to be part of our celebration of clean cars that don't compromise on quality. Say hello to a car care experience that shines as bright as you do.