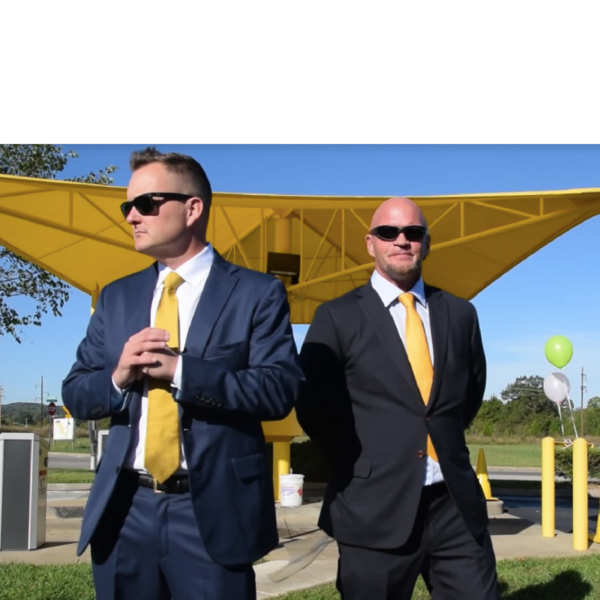 Executive Summary
As an Express Exterior Auto Wash company, we are focused on speed, convenience, value, and quality.  Expediency and efficiency will allow for high daily volumes while our competitive pricing and unique processes will insure repeat business and brand loyalty.  We seek to dominate any market that we enter or operate in. By studying traffic patterns and retail sectors we will strategically place our sites to reach the entire market profile.  We will cut off competition and exploit their weaknesses and then build a spoke and hub distribution paradigm to ensure the overall success of our operation.
Cheetah Clean Auto Wash will achieve these goals by providing a standard of excellence in service and consistency.   We will deliver an outstanding customer service experience. Consumers are looking for a place to feel valued and welcome.  Cheetah Clean strives to do all that and provide a TRULY clean and shiny car in less than 3 minutes.
The success will be achieved through a track record of using our unique menu, intellectual property, proprietary sales and prep processes that allow us to achieve above industry results time over time.  
While the car wash industry is an attractive business venture based on the profit margins that can be achieved (average wash industry profit margins).
We have a proven track record of success of already dominating our markets.
Keen understanding of layouts, equipment selection, maintenance to prevent downtime and high quality wash

Our extensive in depth sales training for our associates are a key to our successful recurring membership numbers (currently above 5,000) that prove us to be in the top tier per capita in the industry

Uniquely developed talent strategy that includes, active recruitment, bench strength and management training as well as above industry compensation and benefits offerings

Well honed operational procedures focused on both customer satisfaction and reduced liability
We are actively seeking investment partners as we expand our corporate growth from 5 to 50 stores.
Real Estate and Profit Partners – Private investors who want to hold real estate assets and share in the profits from the store operation.
Crowdfunding participation – We will be offering opportunity for grass roots investment soon.  Offerings will include funding participation in the operations company, training and consulting support companies as well as investment in the success of the Franchise Player.
Our overall growth strategy is to initially expand corporately then use our industry innovating franchising model as a powerful management tool.
For additional information, please review our case studies of current holdings and franchising options.
Business Name
Cheetah Clean – Concept Management Company
Mission Statement
Cheetah Clean Auto Wash provides above and beyond service and consistently achieves excellence as the fastest car wash on land.  Through the delivery of a clean and shiny car, we help our customers feel incredible and give our employees a platform to continue to grow and develop.
Core Values
Integrity
Speed
Convenience
Continuous improvement
Above and beyond service through Employee Empowerment
Company Vision
Cheetah Clean Auto Wash will be a dominant force in this industry, starting our growth with a corporate strategy throughout Kentucky and Tennessee and then expanding our reach from 5 to 50 through initial corporate growth and then franchising our stores to our operators. Through investment partners we will build a coalition of Cheetah Clean's that will outperform the current national brands.
Goals & Milestones
Grow from 5 to 50

Lead the industry in Unlimited Membership subscription attainment and retention

Brand penetration in the Southern and Midwest markets with a reputation of providing the cleanest car to every customer, every time

To utilize franchising as an employee empowerment and management tool that will outperform corporate stores
Market
We are targeting initial growth in the Midsouth market, namely Kentucky and Tennessee.
Intellectual Property
Patented Beast Brush
Software in Development to support unique statistical analysis
Trademarked brand name
Proprietary wash and service processes
Car Wash Industry Trends
There are approximately 29,500 tunnel washes in the United States and 90% of these washes are owned as a small business, leaving only 10% owned by a national, corporate brand. This means that in the automated tunnel wash space (ability to wash 50-100 cars/hr) only 3,000 washes and a handful of corporate owners have positioned themselves as competition in terms of growth and brand strategy.

Industry experts not only believe there is room for consolidation, but that the national market is short of car wash locations by 20,000 washes.

In the last 15 years, there has been a 69% increase in car owners using a car wash facility rather than wash themselves and there are an estimated 8 million vehicles washed at car washes daily.  

Financial institutions and investors have taken note of the upside of this business, particularly the high profit margins and that it is ecommerce resistant.

The development of a subscription model through monthly membership has greatly reduced the wild swings of revenue that once impacted the industry and those that can master membership sales, engagement and retention will come out on top in terms of profitability and longevity.

Consumer trends: Increasingly, car wash customers are as focused on quality and value as they are speed of service.  There is a trend toward convenience and speed through RFID readers, the membership perk of a "fast pass" in which staff interaction is minimized and entrance and wash selection is automated.  Free vacuums and detail tools at the end of the tunnel allow customers to complete interior cleaning as needed without impeding the opportunity to go in and out quickly if desire.
Jeff W. Fields, CEO and Founder
Jeff was born and raised in Bowling Green Kentucky, attended Western Kentucky University and College of Charleston studying Business Management.
With 20+ years personal experience in the car wash industry and a family legacy in wash development, equipment fabrication and operations, Jeff Fields is a wash industry expert.  From ground up development, to wash turn-around, marketing and franchising his brand, he is obsessed with quality, innovation and speed of service and passionate about sharing what he has learned to help others find success.
For more information or details about how you can get involved in Cheetah Clean's growth, contact:
Jeff Fields – jeff@cheetahclean.com
270.842.0286
For additional information, please review our case studies of current holdings and franchising options.
https://cheetahclean.com/investing/
https://cheetahclean.com/blog/investment-opportunity-information/